The Schnapsen Log
November 16, 2012
Vienna Tournament
Martin Tompa
I am going to break from our normal format for today's column, in order to give you a brief travel report.
I was in the beautiful city of Vienna not too long ago for a visit. Normally the Schnapsen tournament season is during the cold months, and it was still summer weather at the time of my visit. But by good fortune, at the end of the week there was a small, off-season Schnapsen tournament in the outlying district of Hietzing, and I was able to enter.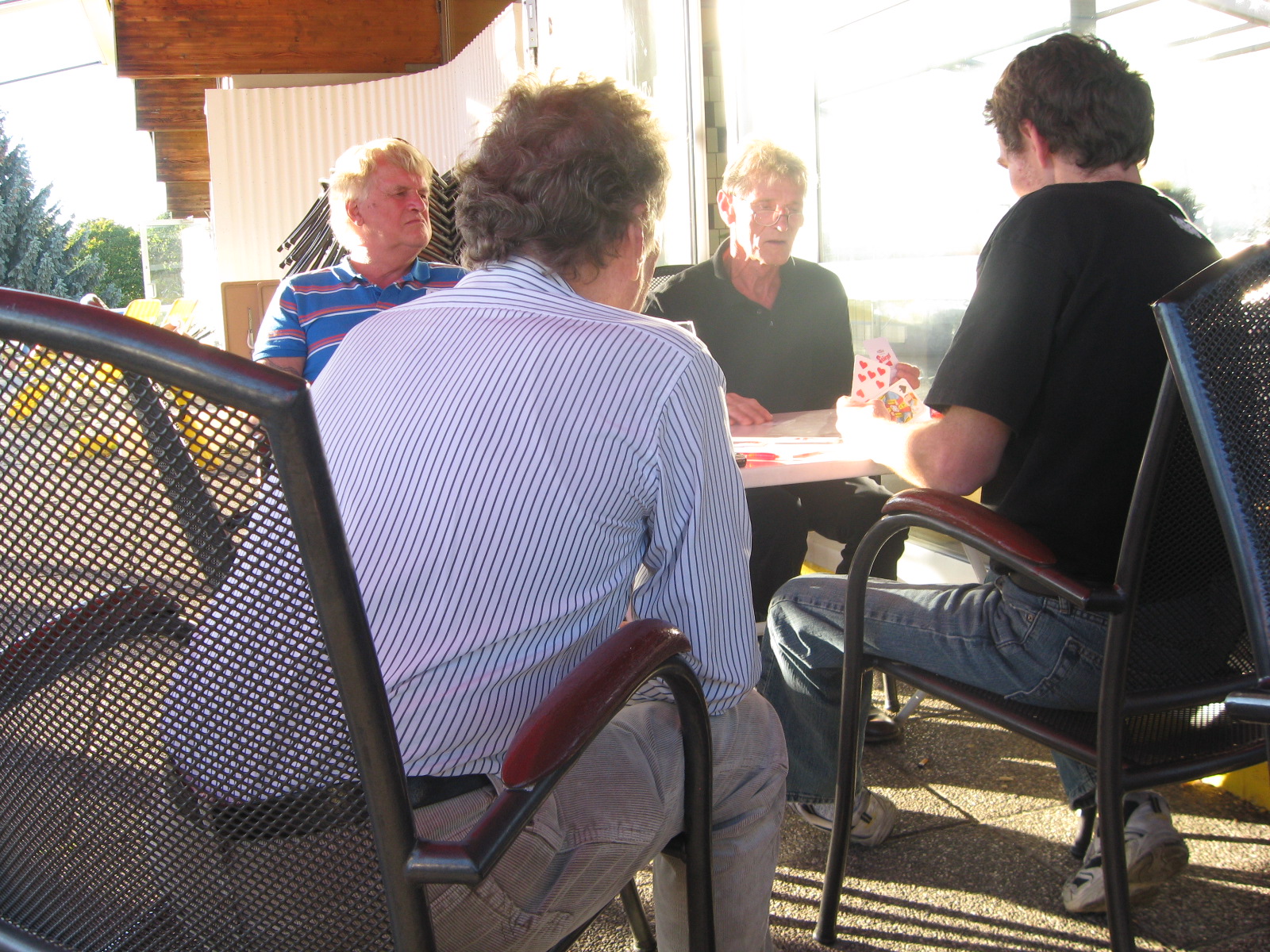 The weather was so gorgeous that most of the tournament was played outdoors. The tournament mechanics were interesting. Because there is a fair amount of luck involved in the cards you pick up, you can buy up to 4 entries to the tournament. Each entry gives you a ticket for a single round 1 game (just the usual 7 game points) against an opponent. For each round 1 game that you win, you receive a ticket for a single round 2 game. When no one has any round 1 tickets remaining, round 2 begins. This pattern of rounds continues until you have no ticket left, at which point you are knocked out of the tournament. The last player remaining in the tournament is the winner.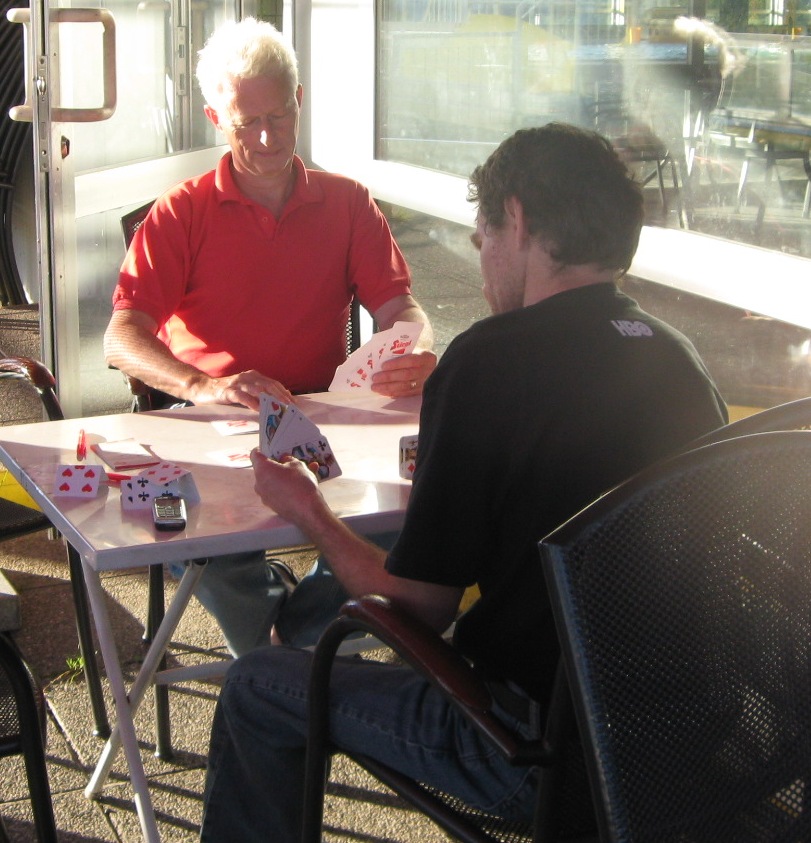 I wish I could report that I played skillfully and got further in the tournament than I did. The truth, though, is that I didn't play very well and got knocked out in round 2. Entering and playing in the tournament was a good experience, and it was fun to meet and play with others who are serious about Schnapsen. I think the next time I'm fortunate enough to be in Austria for a tournament, I will know better how to prepare for it. I hope to get that chance one day. If you are looking for Austrian tournaments, you can find schedules of upcoming events in some of my sidebar "Links in German".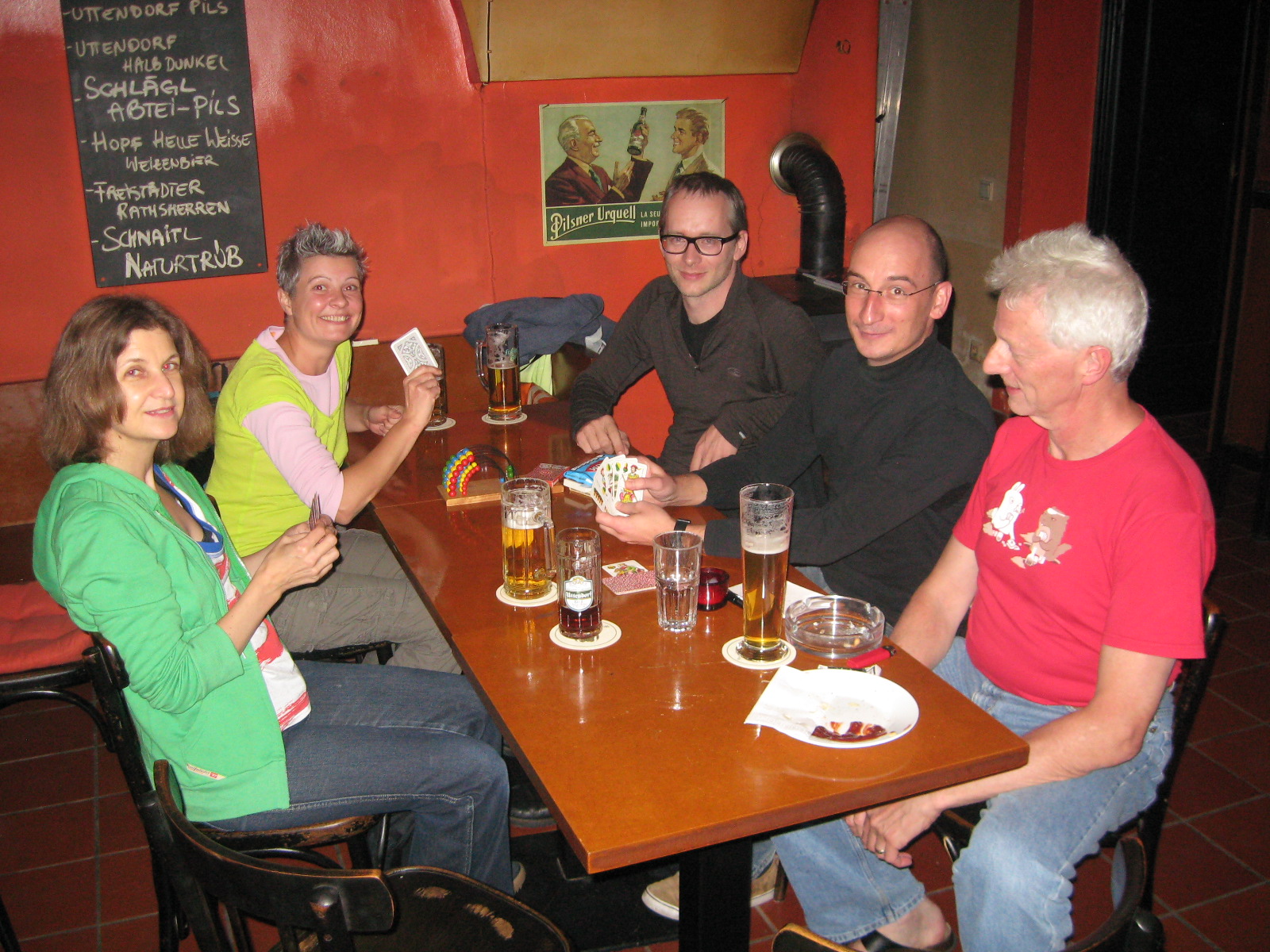 The other Schnapsen-related part of this trip is that I spent a very pleasant afternoon and evening with Florian Wisser, the author of the devilish Doktor Schnaps program that I discussed in an earlier column. We spent much of the afternoon discussing Schnapsen programs and some interesting problems related to Schnapsen. In the evening, Florian had very thoughtfully arranged a fun Schnapsen mini-tournament with three of his friends and fellow Doktor Schnaps players at the Cafe Brendl. It was wonderful to meet all of them. I am grateful to Florian for his gracious hosting.
© 2012 Martin Tompa. All rights reserved.
---
Comments
blog comments powered by

Disqus